Digital Signage comes in various shapes and sizes. There many different type of screen configurations that can be commonly seen in many places. Some are single portrait or landscape orientation and some are a group of screen arranged and connected to form larger displays called video-walls.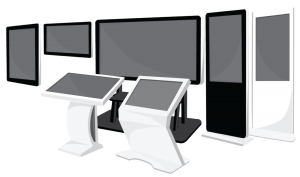 Different type of screen hardware that we supply
We at Mobistudios provide a complete one-stop hardware and content solution as part of our Digital Signage product. Our friendly sales and technical team will be able to guide you through and provide the best recommendations to suit your needs.
We offer both local network based and internet Cloud based digital signage solutions.
There is a great difference between a Commercial display screen and a Consumer TV.
One comes in flavours from 8 to 24hrs operation, while the consumer TV is meant for a much lower operating period.